Job seeker thinks that they have optimized their LinkedIn profiles and now they will start getting job opportunities.
Your Linkedin profile is not getting any consideration by recruiters.
You must be thinking what the problem with your profile is?
Optimizing your profile is not going to solve this problem solely.
Here, I am going to show you which settings need to do to get noticed by the right people on Linkedin.
Privacy Settings 
-Click the Me icon at the top of your LinkedIn homepage
-Select Settings & Privacy from the dropdown.
-Click on option Privacy and Select the option "Job seeking preferences."
-Under Job seeking preferences, Select "Let recruiters know that you are open to opportunities."
-Switch the toggle to Yes to share that you're open and appear in recruiter searches matching your career interests. Switch the toggle to No to stop sharing your career interests with recruiters.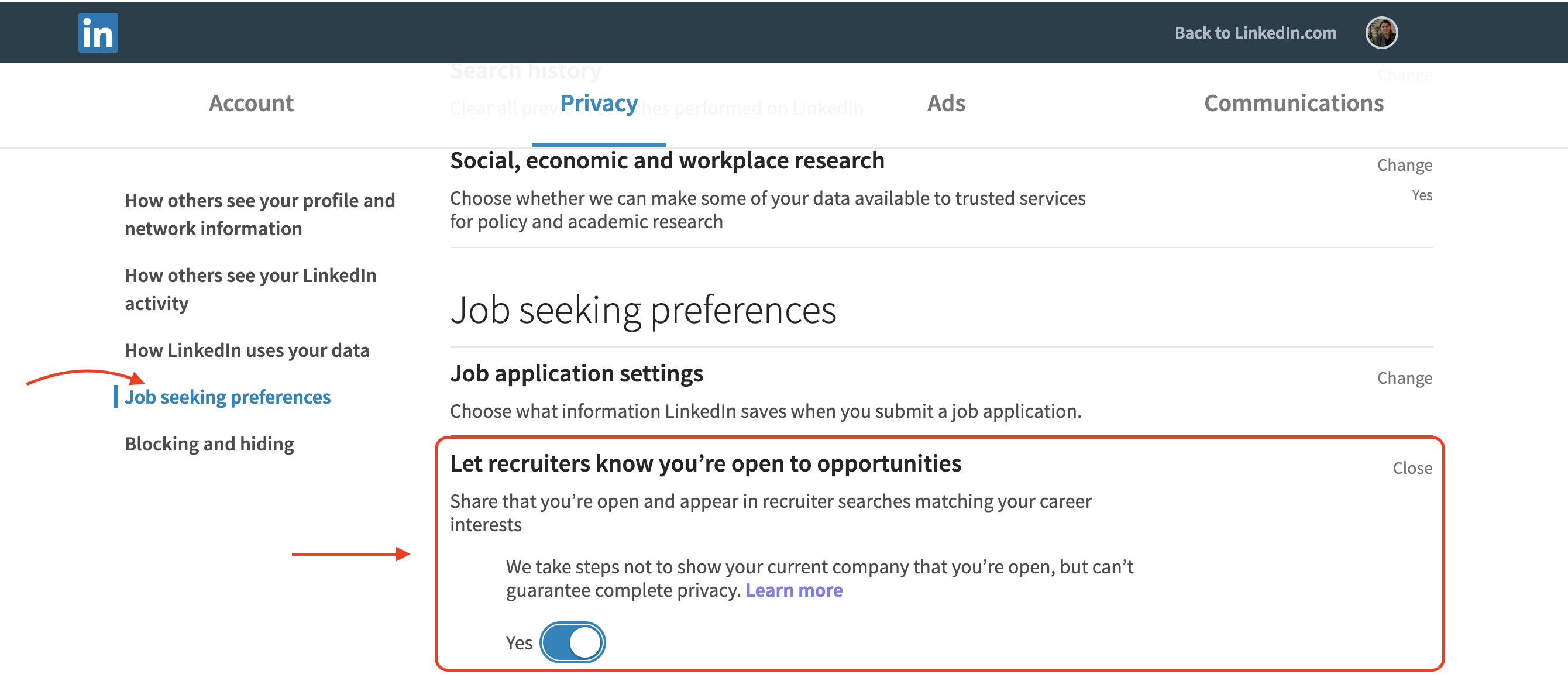 Career Interests
If you are looking actively for a job, then you can't neglect Career interest option in Linkedin.
First option: Career Interests from Jobs Menu
All you have to do is go to the Jobs section on the LinkedIn Main menu.
You will find the option Career Interests.

Second option: Career Interests from your profile
-Click the Me icon at the top of your LinkedIn homepage
-Click View profile under your name. In the Your Dashboard section of your profile, click Career interests.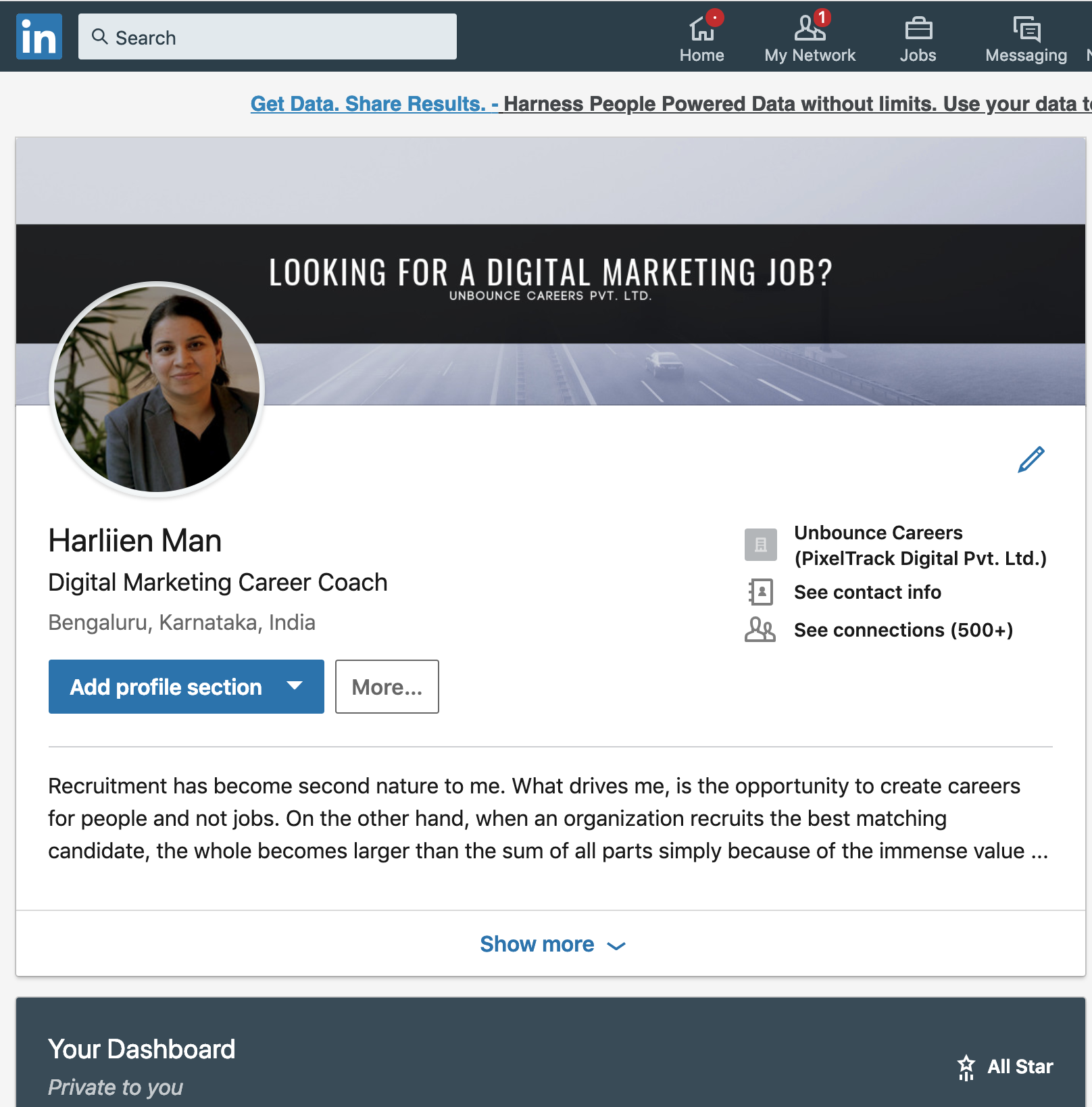 ▼Scroll Down ▼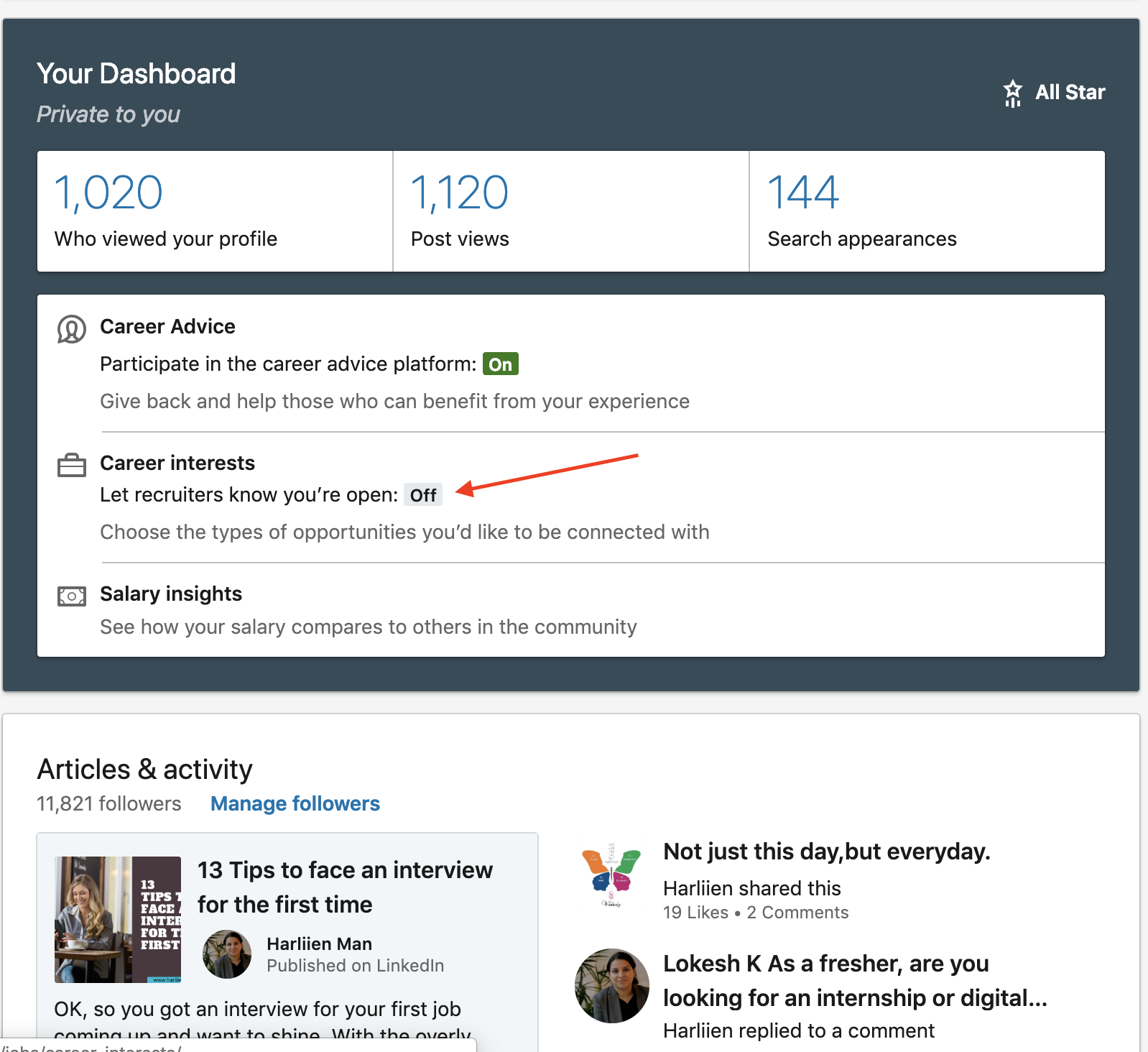 Click on Career Interests. By default, it will be Turned off.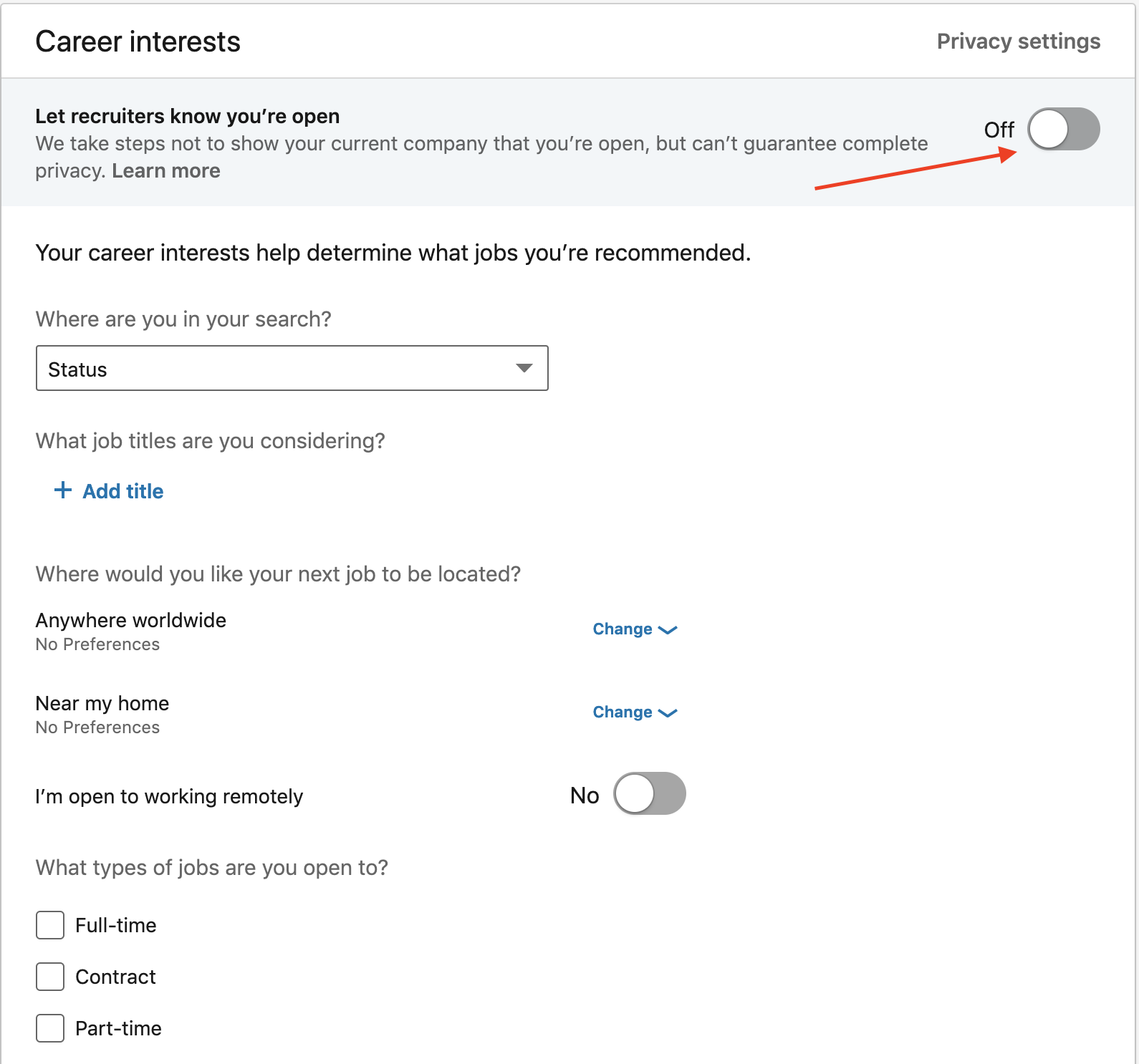 Just click On.
The first thing that appears is the option to let recruiters know you are open to new jobs/opportunities.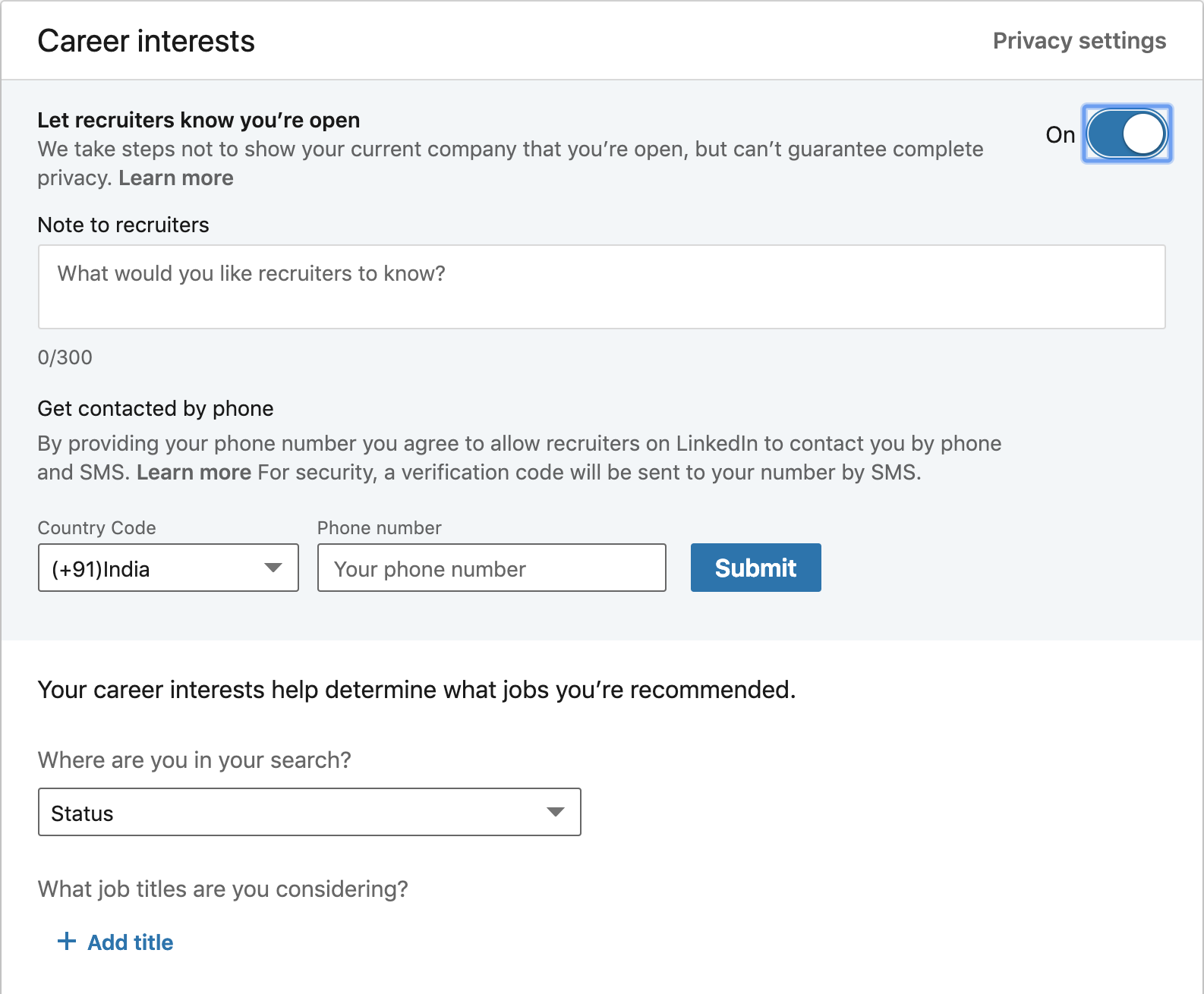 You can customize the following preferences:
Shared Career Interests with Recruiters/HR's
How actively are you looking for a job
How soon would you like to move to a new job
Job titles you are considering
Locations that you would prefer
Types of jobs you are open to
Industries you're considering
The size of the company you'd like to work for
Source: Career Interests Preferences
These are some LinkedIn tweaks for job seekers. I hope it will help you to get noticed by recruiters, HR's and Companies soon.