"Content marketing is all the marketing that's left" – Seth Godin
You know content marketing is hot.
It's producing results.
Companies want to leverage content marketing.
And content marketing skills – content writing, content promotions, and content marketing are most wanted right now.
The Content marketing mastery course not only guides you on how to become a content writer or content marketer but it also shows you various aspects of Content marketing that you can start practising from today onwards.
So let's get started….
Who is your trainer?
Sanjay is an ace content marketer. He is also co-founder of PixelTrack.
He has worked with startups like Thrillophilia and Explara, helping them to grow through content marketing without spending a fortune on ads.
He started a brand new blog from scratch and took it to 100K visits a month in less than seven months with just two content writers.
He is the creator of Content Marketing Mastery course because he is the best person to teach us content marketing.
Check out his website for more details : Sanjayshenoy
What will you learn in this course?
-How to distribute your content across the different social media platforms.
Sharing alone is not going to work for you.
You'll learn the secret of getting your content liked and shared again and again on those platforms so that it reaches more of your audience.
-How to leverage social media platforms like Quora, LinkedIn, and Twitter and make them work for you.
-How to use content syndication to get the maximum results.
-How to leverage guest posting to gain popularity among your audience.
-How to create user personas and use them to guide your content creation
-How to come up with hundreds of content ideas in less than an hour
-How to choose the right idea using Sanjay's traffic evaluator method.
-How to create a blockbuster content every time
-How to write exciting introductions every single time
-How to structure the content to increase the dwell time and responses
-How to avoid silly grammatical mistakes even if you haven't taken grammar lessons before
-Why and how to map your content to your customer's journey
-How to create 5 different types of content
-How to analyze the performance of content marketing and the macro and micro KPIs to measure
-How to promote your content in less than 15 minutes a day without needing to hire anyone.
-How to get an insane amount of traffic from Quora.
-How to promote your content on Facebook, Twitter, and LinkedIn
– How to get your guest post accepted by top blogs even if you are new and starting
And a lot more…
To Make a Long Story Short ,You'll learn everything you need to become a content writer and content marketer.
You'll learn
What to write?

How to write?

And how to drive traffic to it?
There are several modules covered in the course.I will give a brief overview of the lessons covered: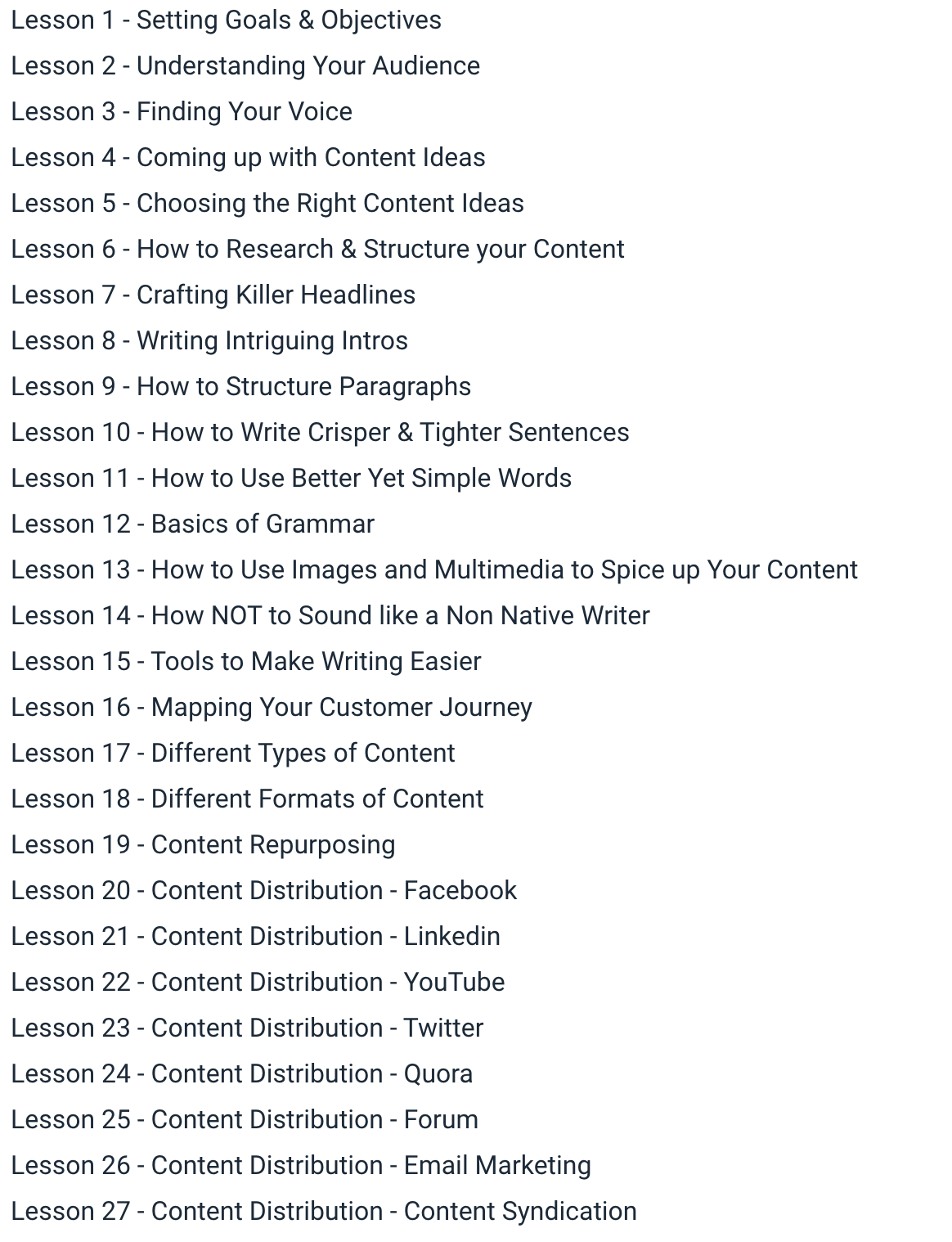 And a lot more…
I don't know whether you noticed it or not, but Sanjay has tried covering every facet of Content Marketing in this one single course, i.e. Content Marketing Mastery.
This course is a gold mine for Bloggers, Content writers, Affiliate Marketers and Content marketers.
Content Marketing Career Prospects
There are many career options for a content marketer, and In this course, you will learn "how to pick the right one that fits your needs and dreams". This is very important. Most people make a mistake here and regret it throughout their life.
Here are the common career options you could choose after completion of Content Marketing Mastery Course:
-Content Writer
-Content Marketer
-Technical Writer
-Social Media Manager
–Freelance Writer
-Blogging
-Creative Writer
-Ad copywriter
The Content Marketing Mastery Intro Video
It is privileged to learn from an expert like Sanjay Shenoy who could drive 500k visitors in a month. I must have seen thousands of videos till date, but Content Marketing Mastery Intro video and the full course has been the best and stood out from the rest.
Have a look at the Content Marketing Mastery Intro video:
Pros for Content Marketing Mastery Course
+Content, the most important thing, is excellent; relevant, interesting and appropriate.
+The course inspires doing rather than sit-and-listen only. You can start implementing the same.
+This course is more likely to engage learners and positively affect their writing skills.
+The Content Marketing Mastery is the well-structured course.
+You have lifetime access to the course.
+You get the course completion certification.
+If you watch all the videos, learn the concepts, and apply them, you can become a content marketer.
+Content Marketing Mastery is one of the unique and comprehensive course.
+You don't need a website to learn this course.
FAQs: Content Marketing Mastery Program
If you have some question, watch out this FAQ video from Deepak Kanakaraju.
Sanjay offers a focused plan to help content writers build their online presence and start their content marketing career.
It's an immersive course, a lot of great content you can immediately put into practice.
Content Marketing Mastery Course is particularly helpful for a content writer, freelancers, and bloggers who are looking for an action plan and career in content marketing. This course has a lot of case studies to learn.
If you are looking to learn from one of the best in the game, this is a course for you.
You can start your content writer and content marketer career with one click.
Join The Content Marketing Mastery Program